Tsunami
Tsunami Glassworks creates fresh and modern blown glass sculpture, installations, decorative and functional objects.
Tsunami Glassworks is the combined effort of glass artists Kriston Gene and Eva  Milinkovic who specialize in designing and producing sculptural and functional blown and cast glass. Tsunami's incorporation of art and utility in design creates effective and unconventional works.
Our dedicated design team creates and fabricates glass products that reference sculpture as well as incorporate utility by combining organic forms with unique colors and a tactile finish. We create products with the idea of bringing art into daily life. The idea of creating scale through multiples is an important component to our products as they can be shown individually or clustered and grouped together to create a custom sculpture.
Our mandate is to create high quality, gorgeous glass pieces all the while making our designers and craftspeople available to our clients; achieving balance between the art of glass design, and manufacturing.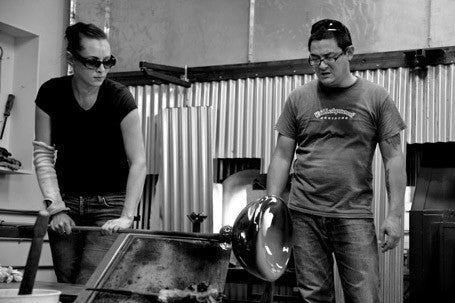 ---