Polly Wales
Polly Wales is the creative force behind her eponymous brand of handcrafted fine jewelry. Building a loyal cult following of fine jewelry tastemakers, Polly Wales' designs are sought after for their distinctive rough luxe aesthetic that is imperfect in its beauty.
Polly, who founded the company 5 years ago, takes pride in the collection's unique design and cast-in-place technique. Each piece is intimately handcrafted, while intuitive stone arrangement and composition are integral facets of Polly's design process.
Polly, who spent her formative years in London and free-spirited Brighton in England, always had a strong affinity for the arts. She studied sculpture early on and later studied jewellery at The Royal College of Art in London. Although Polly is a classically trained fine artist, she has always had a penchant for breaking the mold.
Through jewellery, Polly set out to make pieces that molded and evolved along with the person wearing it. The treasured relationship with the piece of jewellery would become more and more precious over the years. This philosophy compelled Polly to explore her now signature casting process and develop the look that has become synonymous with the collection.
The cast-in-place process, which has become the backbone of Polly's work, is a convergence of unbridled elements where ethical gemstones are cast, not set, into 18-carat recycled gold. This unique process stems from the ancient lost-wax casting technique of making jewellery in wax.
Polly's partner James, who comes from a sculptural background, would set out to become a caster to preserve the quality of Polly's pieces as they came to fruition. James built the casting machines by hand, which refined Polly's signature process and brought manufacturing in-house, ensuring that Polly's vision permeated through each piece.
Additionally, Polly is committed to honoring conscientious best practices and staunchly supports social responsibility. She only uses sustainable materials such as reclaimed 18-carat gold and ethical gemstones. Polly's in-house production means allows the ability to make sure every piece of material is used and not wastefully scrapped.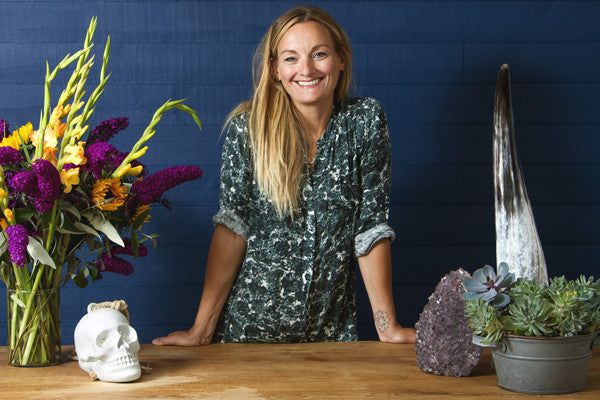 ---