Match Pewter
When David Reiss founded match in 1995, he single-handedly introduced America to the beauty of Italian pewter. Reiss discovered the possibilities of this rich, warm material, which he describes as having an "old soul", while traveling through Italy. There, he found family-owned workshops that had been producing pewter for generations. He fondly recalls the owner of one of the workshops, who was known to sell his pewter wares from boxes strapped to the back of his Vespa.
match debuted with 40 designs at the New York International Gift Fair to great success, catching the eye of prestigious retailers including Gearys in Beverly Hills and Barneys New York, which bought deeply into the collection, and beautifully showcased it in Chelsea Passage, their home décor department. At the time it was the only Italian pewter collection available in the United States, and match was the only American company producing pewter in Italy. Being the first in this category was fortuitous for Reiss, as it gave him the time needed to carefully select the finest workshops to produce his designs. In the years since, the match reach has grown, and the company's handsome Italian pewter designs are available at over 700 top retailers around the world.
Reiss, a graduate of the Rhode Island School of Design (risd), is the principal designer of the match collection, working in collaboration with the Italian artisans who ultimately hand craft each and every piece. All designs are rooted in classic European forms from the 14th through 19th centuries; many are cast from molds made from original antiques. Pewter, as Reiss quickly discovered, is an elegant chameleon that can effortlessly harmonize with its surroundings, whether casual or formal, traditional or modern.
The incredible versatility of pewter inspired Reiss to expand the offerings of match. In 2002, the company introduced an extensive bar collection — a marriage between beautiful Italian pewter and crystal. It included glassware — for wine, whiskey and everything in between — pitchers, decanters, buckets to hold ice as well as champagne, and punch bowls. The next year brought the introduction of Convivio, a collection of dinnerware — ceramic plates with pewter rims. It was received with a level of enthusiasm that has not abated, and has remained a best seller ever since. Convivio's curvaceous sister, Viviana, made her debut in 2007, followed by Luisa in 2010. In 2006, match entered into partnership with Coltellerie Berti, an Italian company that has crafted knives, by hand, since 1895.
match's ongoing success is a testament to, yes, the product itself, but also the people, from the artisans who hand make each piece to the staff both here and in Italy. match has maintained long relationships with the country's top retailers, and prides itself on adhering to the highest levels of quality, attention to detail, and outstanding personal customer service. As a result, match designs are rarely discontinued, and are destined to be cherished for generations. Each piece of match Italian pewter is an heirloom.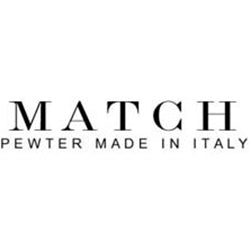 ---
---