Lulu dk
"I was born and raised in New York City on January 4th, 1972 into an already vibrant family of 5 children, 3 cats, 2 dogs named Pucci and Gucci, and a house filled with rainbow colored walls and fabrics. My mother was an avid interior design and an absolute style icon and my main source of inspiration. Pucci, David Hicks,big pink and yellow flowered sofas, Fruit Loops, and electric white tennis outfits are what I think of when I think about my childhood. We lived between New York, the Hamptons, and the Bahamas. I count my blessings everyday. I went to Parson School of Design and studied Fine Arts and Interior Design and then moved to Paris where I...(I apologize for the cliche, argh)..."found myself" - but I did; my world opened up. I fell in love with a man named Alfredo, and we got married 15 years later. I found my career, tromp l'oeil and haven't stopped painting and creating since. I found my soul and courage, living away from my family and discovering who I was without being the daughter of, the sister of, the friend of, etc. It was wonderful and humbling.
After 4 years in Paris, I moved back to New York. I mixed my tromp l'oeil education with my fine arts education and started painting clients walls with big large florals or color-filled geometrics (two sides to my brain - graphic and floral). The interior designs I was working with convinced me to transform these wall designs into fabrics and wallpapers. I found a fabric printer in France, and before I knew it, Lulu DK Fabrics and Wallpaper was born."
Because Lulu cannot stop creating and painting, the brand continues to grow and expand. Lulu creates the prints for the luxury bed linen firm Matouk, fabric house Schumacher on the Lulu DK Child collection, Elson & Company carpets, Elite Leather, and most recently, Land of Nod and Caspari. 
"In 2008, I released my first book - a visual autobiography of my life called, LULU. The book is a visual journey through the highs and lows of my life told through collage. The entire book is done by hand and is really my proudest piece of work."
Lulu has also sold her hand-painted artwork to much acclaim and success on One Kings Lane and at Clic Gallery. In 2014, the company launched one of the season's hottest products, Lulu DK Tattoos - metallic jewelry temporary tattoos. Inspired by traditional jewelry, Lulu transformed her hand-drawn designs into a bold and fashionable line of intricate tattoos. Although the company has grown and evolved, its mission has always remained clear: "Through the creation of original art, I am to inspire a liberated and colorful life."
With Lulu DK, we strive to continue to grow and share this mission and inspiration with you. "Being the youngest of six meant that from a young age, I had to find what was unique about me," recalls Lulu. "Hence, I have always searched and shopped for things that make a statement - a statement that is a little earthy, a little colorful, a little personal, and most importantly, a statement that elicits happiness and memories. A home should be filled with a wonderful array of found objects, living flowers, colors, paintings, and fabrics and furniture that let you kick back from a long day, jump around with your children (without fear of breaking the china), and be inspired. So, if you are feeling like your life needs a little soul and originality, I am sure you will find it with Lulu DK."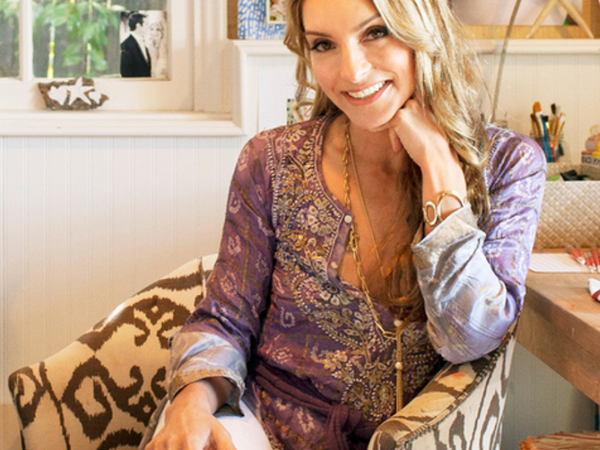 ---