Joe Blow Art Glass
Jeff Burnette has been working in hot glass since 1979. In this time, Jeff has developed his own unique line of work, including a stunning line of stemware, larger works like the Incalmo Vessel series, and the funky and unique "Raygunz."
Jeff studied at Sheridan College of Art and Design in Ontario and Pilchuck Glass School in Washington State. He has also participated in numerous advanced glass workshops, where he has worked with some of the top hot glass artists in the world. In 1992 he was invited to France by CIRVA, where he first met and worked with Lino Tagliapietra. Through his intense study of glass, Jeff has mastered some of the most difficult aspects of glass blowing and sculpture. Jeff has become one of the leading goblet makers in Canada, and has won numerous awards for his outstanding talents….
In 1999 Jeff all out wanted more control of his destiny.
Putting together a Business plan He raises the money to build his "Dream Studio" Joe Blow Glassworks. In this facility he is able to tackle large commission works such as the 400 piece installation at the Ki restaurant in Toronto and the 300 pc. Wall Install at the Ike Barber learning center at UBC.
After 10 years riding the Joe Blow roller-coaster and High Blood Pressure, Jeff decides to down-size and in 2010 finds a smaller space to assemble and show his work without the huge overhead and pressure from Teresen Gas…
"Inner Sanctum Glassworks", a space inside of a space "Hungry Thumbs" is a studio where Jeff can still do his work without the constant stress of a running furnace…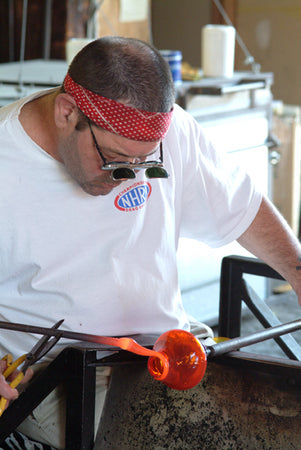 ---
Sorry, there are no products in this collection