Correia Art Glass
Correia Art Glass is of the highest quality and most elegant design. Its allure is the visual aesthetic of color, form and tactile sensation yet it is the perfect marriage of art and function. These pieces beg to be held and used.
The skilled artisans for Correia Art Glass use the freehand blowing techniques and tools of centuries past while applying new technology that produces superior results. Liquid glass, pulled from the furnace's 2600 degree Fahrenheit inferno on to long stainless steel pipes, is blown and twirled and worked in an artful silent ballet of hot glass applied to hot glass.
The molten magic of fire transforming fine sand from the American Southwest into glass is an entirely handmade process using our own formulas of minerals and precious metals. The result is art achieved through color, shape and light. Designs are garnet-etched into the surface of the glass, never painted on. Each unique piece is then signed, dated and registered for authenticity.
The nation's great museums own Correia Art Glass. It is in the permanent collections of the Metropolitan Museum of Art, the Smithsonian Institution, the Corning Museum and the Chrysler Museum of Art. Each year Correia Art Glass also receives commissions for special pieces from corporations and public institutions and is included in the White House art holdings.
Correia Art Glass, located in Santa Monica, California, is a small family-owned glass studio. It was founded in 1973 by nationally recognized glass artist
Steven V. Correia, whose work with glass and light have been exhibited all over the world. Patricia Correia laid the foundation for Correia's national reputation by introducing our glass to the finest retailers and fine art museums.
Algerine Correia, President of Correia Art Glass, is an artist who oversees the daily operation of the company. She, as the principal designer, is in the heat of the creative process as well as working on a daily basis with the glass blowing artisans.
Jeffrey Correia is an artist in tune with contemporary art glass, equally at home on the glass-blowing floor. His avant-garde design statements help keep Correia Art Glass in the forefront of studio glass. He and his sister Algerine cherish being able to create their own designs for the retail market and for one-of-a-kind commissions.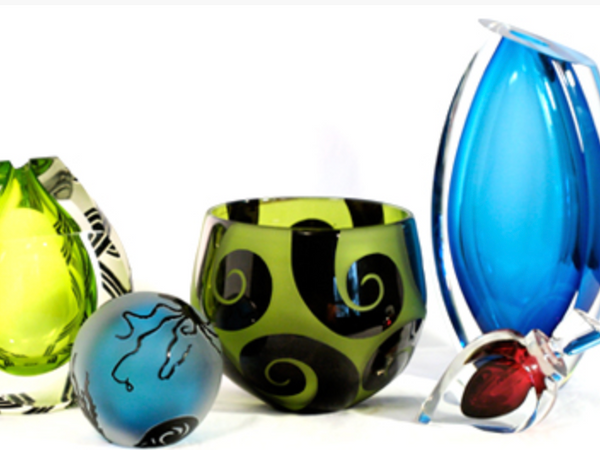 ---