Carolina Bucci
METICULOUSLY CRAFTED, EFFORTLESSLY WORN.
Carolina Bucci makes inspiring, distinctive jewellery designed with a reverence for craftsmanship and executed with elegance.
Established by fourth generation fine jeweller, Carolina Bucci, our brand and its creations are interwoven with the personal stories of our designer as well as the rich heritage of the Bucci family. Every piece of fine jewellery is created in the family's workshops in the goldsmiths' quarter of Florence, where Carolina can sit side by side with craftsmen to work out how each new design can be realised. This simple, direct relationship between creative and creation is at the very heart of what Carolina Bucci stands for.
The tradition of excellence in fine jewellery manufacturing innate to the workshops is what allows Carolina to design contemporary, intricate and unusual pieces that have a distinct point of difference from traditional fine jewellery. The first collection from Carolina Bucci, Woven, was created using a centuries-old loom originally designed to weave textiles, but adapted to weave gold and silk threads.
THE CONTEMPORARY VISION OF CAROLINA AS A DESIGNER, AND THE GENERATIONS OF KNOWLEDGE AT HAND IN FLORENCE, HAS ALLOWED TRADITIONAL TECHNIQUES TO EVOLVE AND SO ENRICH THE CAROLINA BUCCI DESIGN AESTHETIC.
Carolina's personal stories – her memories, her experiences, are intertwined with each of her designs. Jewellery is always admired, but what makes a piece priceless and precious on a personal level are the stories.
The Carolina Bucci bespoke service allows clients to create a piece or suite of jewellery that is completely unique in spirit. Whatever the story behind a commission, the designers and craftsmen will apply the finest techniques and materials to bring it to life.
BESPOKE IS NOT ABOUT MINOR ALTERATIONS TO EXISTING DESIGNS BUT A PERSONAL EXPERIENCE FOR EACH CLIENT THAT BEGINS WITH AN IDEA, AND ENDS WITH A PHYSICAL REALISATION OF THEIR STORY.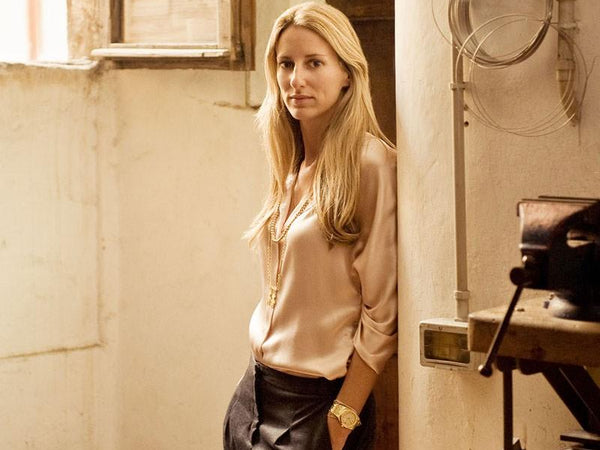 ---