Campania
Since it was founded in 1983, Campania has been a premier designer, manufacturer and distributor of fine garden accents to independent garden centers throughout the United States and Canada. By remaining committed to its core beliefs of excellence in design, quality and customer service, Campania consistently continues to set trends and industry standards.
Campania offers an extensive range of products in a variety of materials and styles from classic to contemporary. Campania's Cast Stone Collection is designed and manufactured at our facility in Pennsburg, Pennsylvania. Our imported Pacifica Collection is manufactured exclusively for Campania in Europe and Asia. This complete range of product allows Campania to meet each customer's unique demands for superior and distinctive products.
Under the direction of our Creative Director, Peter C. Cilio, Campania employs a talented group of artists
to create original copyrighted designs that blend classic old world traditions with a uniquely American sensibility.

Each member of Campania's design team is characterized by an abiding passion for their craft and
the creative process. It is this passion that continues to invigorate Campania's reputation for design excellence and innovation while bringing distinction to every garden center that carries Campania Product.
Campania inspects every customer shipment and every product. Campania prides itself in making sure that the customer is satisfied with every shipment. Campania believes that each customer is the most
important customer. To support that belief, Campania's sales force and internal customer service team
focus on providing exceptional service.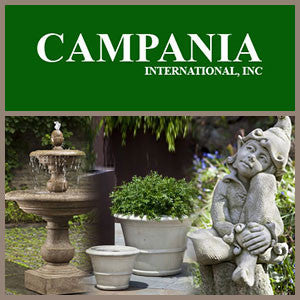 ---
Sorry, there are no products in this collection