Caleb Siemon
Siemon & Salazar has been designing and producing hand blown glass vessels and lighting fixtures in Southern California since 1999. The studio's aesthetic reflects the evolved craftsmanship of the Muranese tradition coupled with the balance and restraint of the Scandinavians. Caleb Siemon and Carmen Salazar met while undergraduates at the Rhode Island School of Design. Caleb focused on glass, Carmen on sculpture. After RISD, Caleb trained with a renowned master glass blower­­ in Venice, Italy, while Carmen moved to San Francisco, where she worked for an environmental land artist, metal and glass sculptors, and horticulturalists.

After a two-year Murano apprenticeship, Caleb returned to California and built his own Italian-style studio.  He enlisted the help of a group of friends, which included Carmen. "I thought I was just going there for a month or so," she says, "but here we are, almost two decades later." An ever-changing collection of visiting artists helped shape the studio's design and approach. During these early years, Caleb honed his skills in glass while Carmen earned a Masters in Architecture from SCI-Arc.

Today the workshop is more streamlined, but the collaborative mindset persists. "Glassblowing is a team sport," says Caleb. "It requires a united effort from multiple people to create one design." Every piece is hand formed by the team, and all custom metal components are fabricated and finished locally.
Caleb and Carmen draw as much inspiration from the medium as they do from the place where they live and work. "We always start with an idea but remain flexible to allow for the natural qualities of the material," says Caleb. "The element of the unknown has always attracted me to glass, and to California, for that matter," says Carmen. "There's a tangible sense of adventure, as well as beauty, layered within the landscape. We try to embrace that."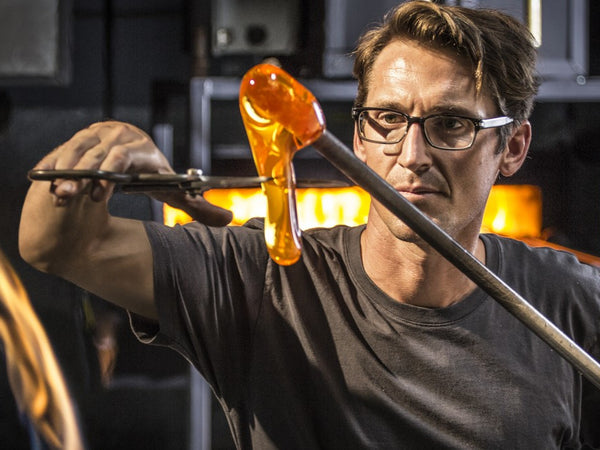 ---