Chaudron
Master craftsman Antoine Chaudron's workshop is located in the heart of  the Laurentian village of Val-David. Here, employing traditional fabricating methods, he primarily produces pewterware that includes plates, trays, glasses, vases, jugs, and oil lamps.


Chaudron pewterware is made from an alloy containing at least 92% tin, the North American standard, with added antimony and copper. This lead-free alloy is non-toxic, will not alter the taste of food and will not tarnish.

Chaudron products are handcrafted, consisting of traditional and contemporary wares incorporating the techniques of hammering, engraving, embossing or casting. The finish is hammered or polished with some pieces decorated with engraved textures or elements from nature. Pewter is a sensitive metal that gently responds to the craftsman's work.
It has been over 25 years since Antoine Chaudron took over the family business. It is with the same love for this art and a unique father-son companionship that Atelier Bernard Chaudron moves on to the second generation.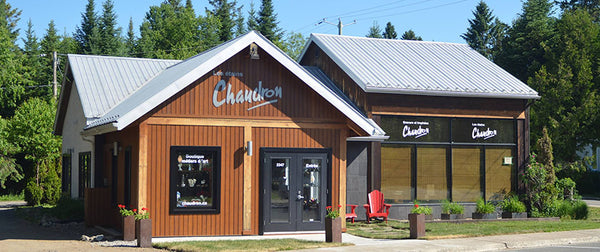 ---
---