Adam Aaronson Glass
Adam specialises in free blown glass. His vessels and sculptures are at once a celebration of the simplicity of pure form, and also an investigation into layering. His coloured patinas draw on painterly techniques and are predominately inspired by a love of nature, especially the play of light on water and the landscape.
He is a consummate colourist, and the Impressionist painters -Turner, Whistler, Monet and others – have been a significant inspiration for his work.
"I think of my work as a story of surface and form. Each blown glass artwork is a canvas, depicting landscape in a variety of abstracted ways; a shimmering moment of reflection, capturing river and sea, coastline, forest and desert, as light passes over and through. Glass contains its own dynamic of reflection and refraction, and balancing the relationship between form and surface is often challenging. I explore the organic form of each sculpture, celebrating the natural flow and force of molten glass, sometimes leaving behind traditional requirements for functionality.
"Sometimes I start with a defined idea, but the intuitive way in which I work means that on occasions I'll notice unexpected aspects of the developing form and how they relate to the palette I am using. It's almost as if the evolving piece influences the way it turns out. People often say that glass has a life of its own and it is only when you actually make glass that you understand what this means. I've been developing a vocabulary of forms for some years, and these range from the early simple canvases to the more recent organic surfaces."
Adam's work has been exhibited all over the world and can be found in numerous private collections from royalty to rock stars. Over the years, he has been commissioned to make work for the Royal Academy of Arts in London, Italy's venerable Salviati glass studio, the Museum of Art and Design in New York, the UK's National Art Collections Fund and The British Museum, among others.
Adam's work has been shown at the prestigious Sotheby's Contemporary Decorative Arts exhibition in London, and the Cooper Hewitt, Smithsonian Design Museum, in New York City.
Adam is a Fellow of The Royal Society of Arts (FRSA). He is a Fellow of the Society of Designer Craftsmen (FSDC), and chairman of their Selection Committee. Adam is also a member of many glass related societies and organisations, including the Contemporary Glass Society, the Glass Association, and the Glass Circle. Adam is also an active member of the Surrey Sculpture Society and the Surrey Guild of Craftsmen, as well as the Oxford Sculptors Group. Adam has exhibited and demonstrated at Art in Action, the annual arts and crafts event at Waterperry Gardens in Oxfordshire.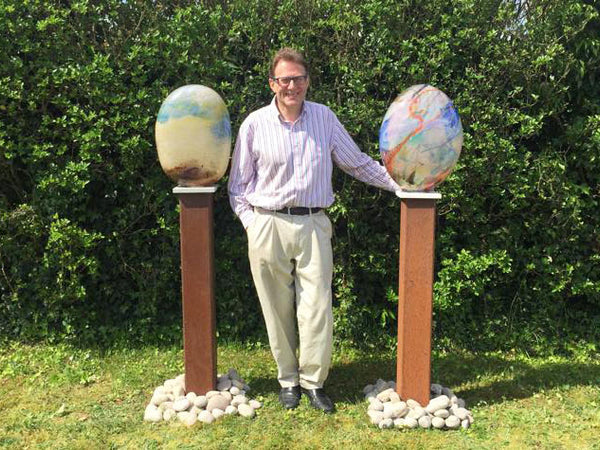 ---